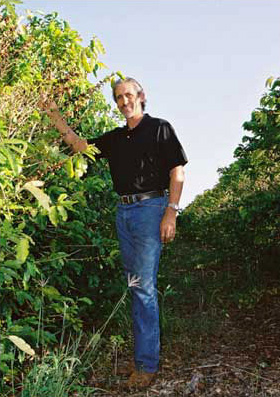 Our Agricultural Roots
The push-pull of agriculture versus development is as challenging today as it has ever been in Maui's history. In the middle of the 1980s, the term "diversified agriculture" became the buzz words denoting a possibly new and viable way of growing the Island's economy. Sugar was being phased out all over Hawai'i and coffee was the crop that ultimately showed the most promise. A valiant attempt by Lahaina's Pioneer Mill to transform the old sugarcane fields to a thriving coffee plantation proved to be too small to compete against much larger producers.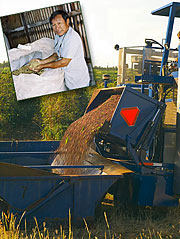 Today, the Kaanapali Land Management Corp. in concert with agricultural expert and successful coffee farmer James "Kimo" Falconer has come up with an innovative approach that holds promise for both diversified agriculture proponents and those seeking their own little piece of Paradise. It's called Ka'anapali Coffee Farms. Four to seven-acre lots – part of a 336-acre parcel above the Ka'anapali Beach Resort area – combine modern island living with West Maui's agricultural heritage.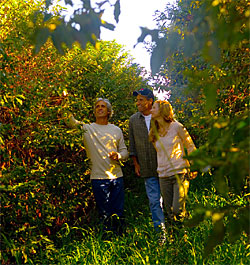 Each "Farm Dwelling Site" consists of one acre on which may be built a main house and another dwelling of up to 1,000 square feet. Other out-buildings related to agriculture – such as a barn or a workshop – may also be built on their parcel. The remainder of each lot's acreage is planted in coffee trees. The crop is tended by Kaanapali Farm Services and, by virtue of a contract with the KCF Lot Owners Association, MauiGrown Coffee harvests and owns the crop. It is then sold to several roasters on the island who, in turn, sell it to other retailers and directly to consumers.
For the homeowner, the rewards are as plentiful as a coffee tree full of bright red beans – a custom home on a large country parcel overlooking one of the most spectacular resorts in the world AND a stake in preserving some of the island's precious land for agriculture. For the farmers – and Maui's community-at-large – it is an alternative to unbridled growth and a way to live the Hawaiian value of "malama i ka 'aina" – to preserve that which feeds us.
Coffee Break: Did You Know?
• There are about 30 different varieties of coffee; MauiGrown Coffee, Inc. grows four varieties - Yellow Caturra, Red Catuai, Guatemalan Typica Progeny 502/Variety 6661, and its signature variety, Mokka. And please, donít confuse THIS Mokka with the sweet coffee drink Mocha.
• Coffee originated in the Ethiopian highlands and was discovered by Arab and Persian invaders between 550 and 890 A.D.
• MauiGrown Coffee is the only producer in the world that grows Mokka commercially. This variety is also believed to be 1,000 years old!
• The Ka'anapali Coffee Farms, the area where MauiGrown Coffee now has its trees, was the former site of Pu'ukoli'i Village. It was once the largest plantation village in Hawaii, home to more than 3,000 people. The village had a market, church, schools, theater, barber shop and other businesses. There is also evidence of pre-contact Hawaiian activity in the area. All that is left today is the old village cemetery.